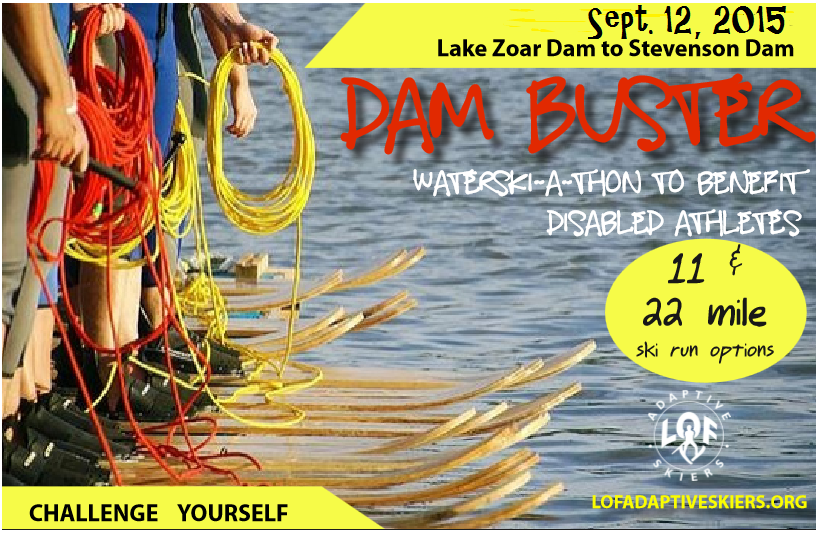 Words can not express how proud we are of the 20 skiers and 25+ volunteers who participated in LOF Adaptive Skiers' 1st Annual Dam Busters Waterski-A-Thon on Saturday, Sept. 12 on Lake Zoar.
This was a first of its kind endurance waterski fundraising event, with skiers attempting a 22 mile ski run from the Shepaug Dam to Stevenson Dam and back.  The skiers and our volunteer staff in the boats were amazing!  With no practice run, the talented skiers went the distance safely thanks to the crews and made this a truly unforgettable event.
In addition to able bodied skiers who came from PA, NY, NJ and CT, we had three participants with spinal cord injuries, one veteran with both hands missing due to war injuries, and two completely blind local skiers. Over $2,000 was raised for LOF Adaptive Skiers from this event.
Special thanks to the Marine Police Escorts courtesy of the Lake Zoar Authority, to Candlewood East Marina, Danbury PowerSports, and Dunkin Donuts for their support–and to the NewsTimes for their awesome news coverage of our event >view NewsTimes story.
>Click here to view our Dam Busters photo album
Original Post About Dam Busters:
An 11 & 22 mile Waterski-A-Thon from Shepaug Dam to
Stevenson Dam to Benefit Disabled Athletes
REGISTRATION

IS CLOSED FOR THIS EVENT.
NO DAY OF REGISTRATION
Start/Finish: LOF site, Lake Zoar (Directions).  Advanced Registration required.  Day-Of Registration will NOT be available.
Time: 9:00 AM-12:00 PM (skiers should arrive no later than 8:15 AM to prepare) ski marathon; 12 PM-5 PM volunteer appreciation party.
Cost: Skiers can make a donation of either $25, $35, $50, or $75.  All proceeds benefit LOF's adaptive watersports programs.
Raindate: Sunday, September 13th
The first 11 mile ski run will take place from the LOF site on Lake Zoar to Eichler's Cove, the half way point.  At Eichler's Cove, skiers can relax and refuel with complimentary healthy snacks and drinks. The last 11 miles will go from Eichler's Cove to Stevenson Dam and back to the LOF site.  Skiers who fall or wish to only complete the half marathon will receive transportation back to the LOF site via boat or van from Eichler's Cove.
All skiers will receive a free, commemorative t-shirt as well as an invitation to our volunteer appreciation party (open to current and prospective volunteers).  The volunteer party will consist of skiing (learn to barefoot ski, disc, build pyramids, etc), plenty of food, and games (prizes awarded).
Rules:
Life Vests Mandatory. We have some Coast-Guard approved life vests but strongly encourage you to bring your own
You must be a strong swimmer
Skiers with disabilities welcome (recommended: intermediate skill level; comfortable skiing long distances).  Please note that all sit skiers must be able to pull out of the block.
Equipment: 
Waterskiers: Large pair of skis with comfortable bindings (bring your own equipment)
Wakeboarders permitted (bring your own)
Boats, masterline handles, and tow lines will be supplied. Wet suits are optional (bring your own).
Ski gloves are recommended (bring your own).
Safety:  We will have a minimum of two pick up boats for fallen skiers.  Fallen skiers will be picked up by boat  and brought to the finishing point for that lap.